Jay Valens on October 29th, 2008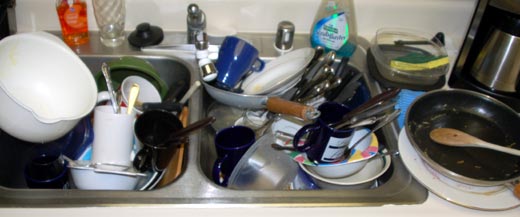 I haven't done dishes in over a week. The rest of my place looks like a tornado ripped through it.  I won't even tell you about my stacks of laundry.
Everyone who knows me knows I'm normally an insanely clean guy, my place is always taken care of.
So what happened?
I've been working non-stop insane hours to bring you the best, both this month and into the future, to the point of obsession.  Now, it's not likely I'll be working this insane, ignoring such basic human needs as sleep, indefinitely.  But, we're close to unleashing one of the most kick-ass packages to help your game that you will ever come across.
Speaking of "the kitchen sink", the T&T package will include everything AND the kitchen sink (don't worry, not mine).  I'll leave the final details for the witching hour (hey, we are releasing it on HALLOWEEN), but in short it will include a number of digital bonuses along with the T&T disc set, such as an exclusive 90-minute interview with Cameron Teone, an audio file of our first teleconference, a 35-minute incredibly detailed "first date" how-to video, the full and complete transcripts for T&T (187 pages long), and access to our next 4 teleconferences.
As a precursor to all that, I've made it a point to flood this blog with constant bits of advice and videos, sent out (and still sending) some of the best newsletters anywhere on pickup to both our "Pickup Arts" newsletter and "Tactics & Techniques" bonus list, host an email bootcamp that's still going on, organizing free giveaways, a teleconference, preparing the behind-the-scenes technicals to make this all happen, and all kinds of other goodies.  That's just the stuff you see.  The blog itself and all our infrastructure are hobbled together with my bare hands, code, graphics, and most of the content.  A lot of you know I also host the largest site on the planet for pickup, and I can't even begun to tell you what's planned for the future.
But this month… this month… was dedicated to ensuring a proper introduction to "Tactics & Techniques".  I have a number of videos still to share, continued advice, and even more newsletter follow-ups.  Most importantly, in less than 2 days, the media package you've been anticipating and waiting for will finally be unleashed and, maybe, just maybe, I'll get some sleep.
After I do my dishes.