Jay Valens on February 13th, 2009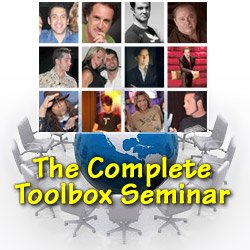 This is truly going to be an event to remember.  We're gathering more than a dozen of the best battle-tested minds of pickup, seduction, and dating and bringing them to you at an exclusive 3.5-day seminar in March.
The Complete Toolbox Seminar
March 20-22, 2009 + pre-seminar event March 19
Los Angeles, CA
Brought to you by the Founders of The Pickup Community (us!) and the producers of "Fast Seduction 101″® and "The Art of the Pickup"®.  Early registration special expires on February 20, 2009.
A DOZEN of the Top Dating Coaches worldwide are coming together to teach YOU in Los Angeles on March 20-22, 2009, with a bonus pre-seminar event on March 19.  Numerous unique benefits will be offered to attendees, such as special 2-hour exclusive luncheon with a number of the coaches for those who purchase front-row seating (listed as "Premiere Seat & Exclusive").
The following bonuses are also INCLUDED as part of the seminar purchase: "The Art of the Pickup" DVD set ($149.95 value), "The Art of the Pickup: Tactics & Techniques" DVD set ($227 value), $100 coupon toward any future event we host, $200 discount on training offered by some of the coaches, 50%/$50 coupon toward any future product we produce, teleconference access ($99 value), daily breakfast/snacks ($75 value), Seminar Booklet ($49 value), and 3 hours direct access to coaches (multiple $200 value). Full details on the seminar can be found at: http://www.thecompletetoolbox.com/.
Sign up ASAP - early registration rates are only good until February 20.  After that, rates will increase, presuming we have any seats left!  If you're interested in attending and want an even greater discount by reserving a seat before February 16 (before this coming Monday), you can find out how by emailing us ASAP at: info /at/ learntheskills /d0t/ com!